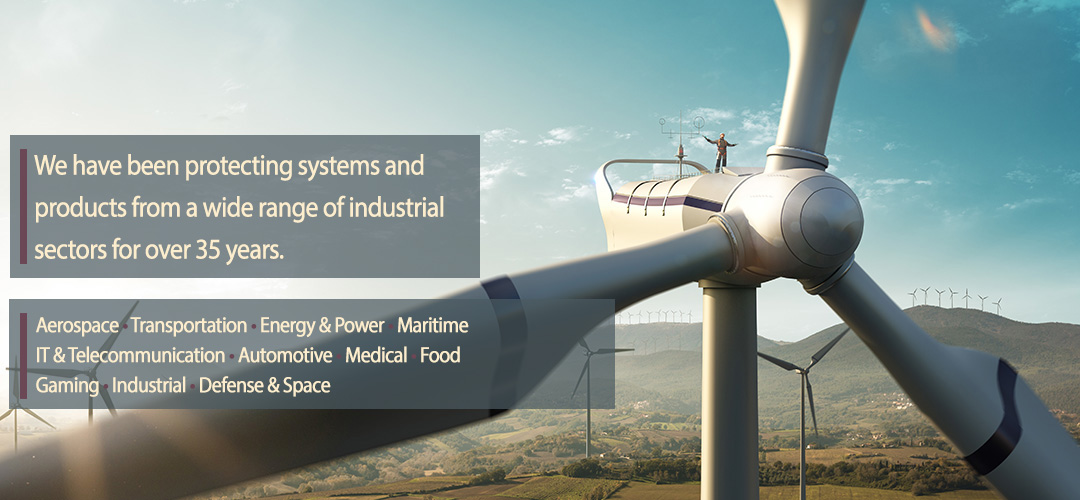 We are constantly growing and expanding our Engineering Services for the aerospace & defense, transportation, medical and wind energy market. Our services include design,  production, quality control and worldwide delivery.
If you have any questions, please feel free to contact us. Phone: +49 40 350 85 128 or by mail: contact@dti-devicetech.eu.
Aerospace
DTi device technologies GmbHis concentrating its services on factories and production plants in the aviation, defense and transport industries – including: Airframers/OEMs, aerospace manufacturers, suppliers of airframers, aviation– aircraft operators such as airlines, charters, corp/biz jets, MRO and completion centers, rental/leasing companies and airports (both terminal and operations).
Rail
In the passenger transport sector, the railway industry has to comply with strict regulations regarding flame-smoke-toxicity. Our product range includes door and window seals and grommet edging profiles that have been developed to meet the requirements in the cabin area.
Energy & Power
In the area of energy generation, the protection of critical electronics becomes a special challenge. In power plants, on oil platforms as well as in wind farms we have to deal with extreme conditions, such as particularly high or low temperatures, changing weather conditions, humid environment and high salinity. This also applies to the increasing use of automatic maintenance by robots. Our product range is designed for such special conditions. We produce corrosion-resistant edge protection and also sealing and cable protection materials that the customer can choose for his requirements.
IT & Telecommunication
The processing of large data quantities implies the handling with a lot of electronics in a compact space. Our products for horizontal and vertical cable management can be installed easily even retrospectively. This prevents microbending of fibers and cables and ensures fast access for maintenance work or system expansions. In addition, our shielding products help to avoid electromagnetic interference and support the thermal management, thus ensuring undisturbed data transmission.
Medical
Leading medical device manufacturers choose our high-quality and certified products. For example, our edge protection solutions are successfully used in the imaging systems of CT devices and our high performance seals in pill coating systems.
Food
Food processing is subject to very strict approval regulations. We offer a range certified high-performance components that meet the increasing demands of food equipment manufacturing. Our sealing materials are successfully used, for example, in equipment that generates very high and low temperatures.
Automotive
In the automotive industry, reliability and durability are issues of great importance. Vehicles are exposed to loads such as high temperatures, shock, vibration and changing weather conditions. As electronics become more and more compact, the requirements for their protection also increase. We ensure electrical insulation, corrosion resistance and reduced wear by linear polymer coating with our reel-to-reel system. Here we offer ready-to-use solutions such as coated edge protection with high gripping force and multi-axis flexibility. Furthermore, cables, wires, stamped metalls etc. can be selectively coated according to customer requirements.
Gaming
The gaming industry must combine fast virtual impulses with durable hardware. This calls for materials that can withstand intensive use. For example, sensitive electronics are inserted into robust, sharp-edged metal cases. To prevent wire chafing, bending or even breakage, we offer our grommet edging with a low profile precision fit, which can be installed quickly without adhesives. This is already used in electronic slot machines in casinos and can thus prevent downtime or even cable fires.
Maritime
In addition to the harsh conditions at sea, shipping is also faced with the challenges of increasingly compact electronics and new ship propulsion systems. High salt concentrations, wetness, high temperatures near the machines and extreme mechanical stress due to vibrations and displacement forces put special demands on the materials used. In the field of cable management, thermal management and edge protection, we offer products that are suited for maritime applications in terms of corrosion and thermal resistance and fire protection.
Defense & Space
Protecting Critical Equipment
Spring-Fast® Mil Spec grommet edging M22529/1 and M22529/2 were designed for the high performance needs of the defense industry. Used widely on airframes, tactical vehicles & ground based electronics.
Industrial
Our high-quality products for the protection of critical electronics can be used in a wide range of industrial applications due to their versatile and selectable material properties. Among our customers are manufacturers of elevators and lighting systems as well as producers of air conditioning systems.