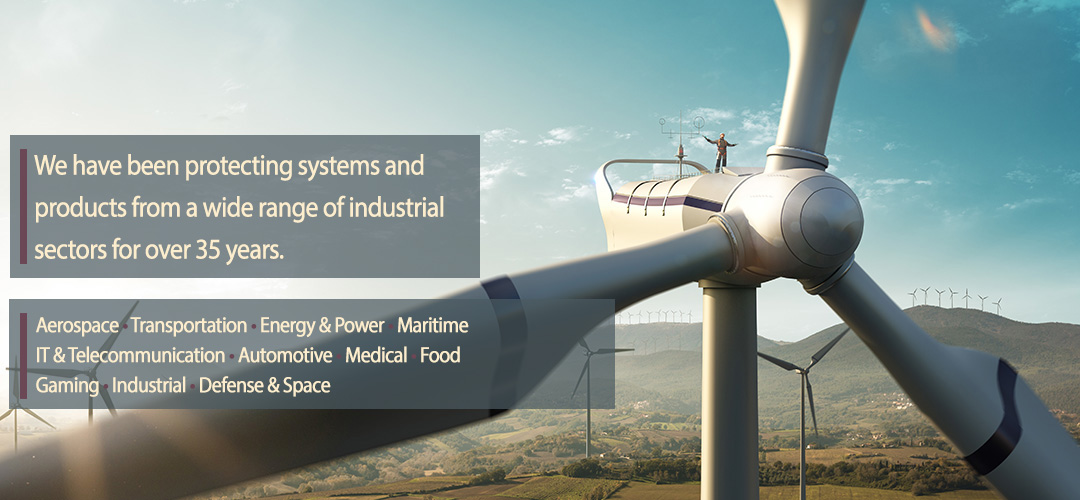 Aerospace
DTi device technologies GmbH focuses its services on factories and production facilities in the aerospace, defense and transportation industries.
Our products are also ideally suited for the field of innovative technologies such as air cabs and transport drones due to their exceptional properties such as fast installation, dead weight and their tested safety standards.
In this context, our Spring-Fast® edge protection is particularly worth mentioning, with its savings of ~49% in total installation costs compared to glued-in nylon edge protection.
We supply our edge protection products and sealing solutions to aircraft manufacturers/OEMs, aerospace manufacturers and aircraft component suppliers.
Airlines, MRO and completion centers, and leasing companies are among our potential customers.
Our edge protection profiles and sealing solutions are even used at airports, both in terminals and in the associated operating facilities.
Have a good start with safety!
All of an aircraft's critical systems are interconnected by its "central nervous system" EWIS. Sensitive wires, splices, connectors and harnesses make up the highly complex aircraft cabling system and require special protection against abrasion. These components also have to withstand cold, heat and vibrations. To give a vivid example: there are up to 40 miles (64 km) of installed cables in commercial aircraft and up to 150 miles (240 km) in wide-body aircraft. Strategically placed conduits for wires, cables, fluid and pneumatic lines are all located in the limited space of the cabin.
Generally, Nylon profiles are glued in for wire protection. This is a multi-step installation process, making it time-consuming and costly. Depending on the used adhesive, such a procedure might also be a health risk.
To protect these critical components, Device Technologies offers the certified Spring-Fast® grommet edging. It is lightweight, offers superior clamping force and, thanks to its clip-on system, can be applied and removed in seconds with just the pressure of a finger.
Without the use of any auxiliary materials or adhesives! Thus, the installation costs are reduced by half compared to the glued nylon profiles.
Of course, our edge protection products and sealing solutions meet the highest aviation safety standards.
DTi device technologies GmbH supplies the aerospace industry not only with our Spring-Fast® edge protection solutions but also with high-performance thermoplastic and silicone sealing materials that meet or exceed the stringent industry standards, e.g. FAR 25.853, NAVAIR 01-1A-505-1, FST/UV stress/corrosion.
DTi device technologies GmbH – Your essential Service Provider
Rail
Analysis and measurement technology: Safety first – your 1st class ticket for on-board electronics

The railway industry, especially in the field of passenger transport, is subject to increasingly stringent safety regulations with regard to FST (Flame-Smoke-Toxicity).
Device Technologies develops edge and wire protection solutions for train electronics and professional sealing solutions.
Faster and faster, more and more comfortable, fully equipped with the latest communication technology – these are today's modern trains.
Hidden, in the narrowest of spaces, a network of cables runs in floors, ceilings and walls.
Our aim is to prevent cables from breaking by rubbing against sharp edges. A short circuit would have fatal consequences!
Device Technologies has developed the SL-FST grommet edging for sensitive electronics especially for use in trains.
Our components are made of a very hard-wearing material which protects the installed cables sufficiently without being affected by vibrations, extreme temperature fluctuations and abrasion.
A special feature is the snap-on installation of our SL-FST grommet edging. Attach it in a few easy steps, without any harmful adhesives!
This means – a 49 % reduction in installation costs is possible. Therefore, not only economic wire protection, but also employment protection is very close to our hearts.
Productivity is increased and working time is reduced, as additional materials and work steps are no longer necessary.
Our SL-FST edge protection minimizes the potential danger in the event of a fire, as it is made of a steel-reinforced special thermoplastic that does not support combustion and does not produce toxic smoke. Thus, our edge protection fulfils the requirements of DIN EN 45545-2 and has the qualification for hazard levels 2 and 3 and meets the highest requirements within the framework of DIN.
The challenge is – these regulations vary from country to country!
DTi device technologies GmbH supports railway OEMs in selecting the FST-relevant materials according to the regional safety regulations.
Rely on fire-resistant materials for edge protection profiles, wire protection for on-board electronics, as well as seals that always comply with the latest safety standards.
In this way, you reduce the risk of injuries, property damage or, in the worst case, even fires in rail transport.
Minimize potential hazards with special grommet edging and sealing solutions for the rail industry and rail transport!
DTi device technologies GmbH- your essential service provider to reach your goal quickly with safety.
Energy & Power
In the area of energy generation, the protection of critical electronics becomes a special challenge. In power plants, on oil platforms as well as in wind farms we have to deal with extreme conditions, such as particularly high or low temperatures, changing weather conditions, humid environment and high salinity. This also applies to the increasing use of automatic maintenance by robots. Our product range is designed for such special conditions. We produce corrosion-resistant edge protection and also sealing and cable protection materials that the customer can choose for his requirements.
IT & Telecommunication
Professional fiber optic cable management solutions for stable data transmission at the speed of light
Especially in today's times, we are clearly reminded of how important fast, stable data lines are. Old copper cables will soon be obsolete and the word fiber optic is on everyone's lips. But installing and working with these wafer-thin fibers requires special treatment. This is the only way to avoid internet interruptions and data loss.
Our Fast-Drop® Radius Control Modules (RCM) prevent the fibers from kinking and breaking (macrobends). This is because a bending radius of less than 6 cm leads to increased attenuation values and thus to a reduction in data transmission/data speed.
This special cable management system for the fiber optic and IT sector offers safety when installing servers, street cabinets or the heart of the fiber optic expansion – the PoP (Point of Presence).
This is the technical interface, the central point for all customers.
The highest security standards must be maintained here.
With the Fast-Drop® Radius Control Module cable management, you can ensure an undisturbed data flow at the speed of light quickly, easily and yet securely. It enables quick changes to existing rack systems and simplifies all installation and maintenance work due to the perfectly organized fibers, cables and much more.
In order to minimize the downtime of services at the customer or companies during maintenance and installation work, many telecommunication companies already rely on the Fast-Drop® Radius Control Modules (RCM) from Device Technologies. The patented simple clip-on design is significantly faster to install than standard designs and offers maximum flexibility in processing.
Faster installation with the patented simple clip-on design of the Fast-Drop® Radius Control Modules (RCM) – The basis for stable data transmission, minimized installation times and considerably simplified maintenance work or retrofits in the future.
Further information
Fast-Drop® Radius Control Modules can be used individually as a corner block. Used together, our Fast-Drop® Radius Control Modules offer the option of neatly and securely storing excess fibers or fibers planned for the future. Pre-configured arrays are also available. Fibers can be mounted both horizontally and vertically with Fast-Drop® Radius Control Modules. The integrated clip enables significantly faster installation, without adhesives or additional components. Our Fast-Drop® Radius Control Modules comply with NEBS/BICSI standards, are flame retardant – UL94 V-0 and RoHS compliant.
Medical
Sensor technology, imaging and data acquisition in a limited space?
Leading medical device manufacturers choose our high-quality and certified products. For example, our edge protection solutions are successfully used in the imaging systems of CT devices and our high performance seals in pill coating systems.
In highly developed medical technology devices, the trend is moving toward smaller, more densely packaged powerful designs. This also increases the requirements for protecting critical electronics. Standard solutions such as fiberglass tape or nylon grommet edging that have to be bonded in place with adhesive quickly reach their limits. In applications where sensitive cables need to be protected from sharp metal edges or corners and possibly also from vibrations and heat, the products in our Spring-Fast® series offer target-oriented low-profile alternatives. The Spring-Fast® grommet edging can be conveniently installed in just a few steps, easily with finger pressure, even during rework. It snaps over the edge and due to its stainless-steel substrate is self-adhering.
Depending on requirements, profiles with polymer cushions or a complete over-coating can be selected.
Advantages of the Spring-Fast® grommet edging:
– savings of ~49% in total installation costs compared to glued-in nylon edge protection
– selectable abrasion protection
– easy installation
– no use of adhesives
– UL 94 V-0 flammability rating
Sterility wanted?
FDA-approved Silicone Seal-Fast™ gaskets and Silicone Trim-Fast™ grommet edging solutions protect critical medical and pharmaceutical technology.
The risk of contamination is one of the biggest issues in the medical and pharmaceutical processing industry.
Medical and pharmaceutical device manufacturers must be prepared to withstand a variety of chemical and environmental exposures. Thus, the selection of materials used in the construction of these devices requires special care to prevent devastating contamination and ensure the sterility of instruments, specimens and other medically relevant materials.
To ensure maximum environmental sealing for critical pharmaceutical and medical process equipment, Device Technologies has developed the Seal-Fast™ Silicone D-Series for enclosures and doors. This high-performance edge seal meets the stringent testing requirements for equipment applications in the medical and pharmaceutical industries.
Seal-Fast™ gaskets provide an effective, clean and fast way to protect demanding medical and pharmaceutical processes from adverse environmental conditions such as dust, moisture, extreme temperatures and fugitive emissions. The high-strength stainless steel substrate is encased in a smooth, abrasion-resistant FDA Compliant silicone to withstand extreme environmental conditions. The stainless-steel substrate provides exceptional gripping force to the edges of enclosures or equipment.
Seal-Fast™ edge seals and Trim-Fast™ edge protection are available in a variety of profiles.
Benefits of Seal-Fast™ and Trim-Fast™ Silicone Series:
– excellent resistance to abrasion, water absorption, temperature fluctuations and pressure
– excellent clamping force and flexibility
– fast installation without the use of adhesives, rivets or screws
– resistant to UV and ozone
– Silicone (white) material meets stringent FDA requirements for use in medical and pharmaceutical devices
– Silicone (black) material meets Flame-Smoke-Toxicity requirements: ASTM E 1354, ASTM E 662, ASTM C 542, ASTM C 1166 and BS 7293
Food
Industry 4.0 in the food industry – optimizing the food supply chain by merging IT and existing technologies.
Digitalization makes it possible to view the entire food supply chain as a single unit and not, as in the past, to focus only on individual production steps. From raw material extraction, storage and subsequent transport to processing, packaging and delivery of the goods – all production steps are coordinated and networked. Automated process technology, robotics, sensors and analytical systems are all involved in the complete supply chain.
Safety is a key factor in this process. 
Compliance with the strictest hygiene standards, fire protection regulations and, finally, packaging recycling must all conform to the required guidelines.
Device Technologies offers a variety of applications with perfect sealing and edge protection solutions that are excellently suited to the complexity of requirements in the food industry.
Spring-Fast®  – protection of highly sensitive electronics from sharp metal edges
Trim-Fast™     – special edge protection profiles prevent cable abrasion
Seal-Fast™      – high performance sealing solutions, fast, safe and efficient
Protect-Fast™ – protects wire assemblies, hoses and cable harnesses from abrasion and breakage
Fast-Drop®    –  radius control modules for professional cable management
All our products can be installed in a few simple steps, free of harmful adhesives. Thereby you save a lot of time, costs and invest in the safety of your employees. All equipment, whether ovens, dishwashers, robots or complex automatic machines, usually have a metal housing with penetrations for cables.
Spring-Fast® and Trim-Fast™ edge protection products protect these areas with abrasion-resistant, durable materials. Due to the easy handling of our products, necessary maintenance work can be carried out more quickly and at the same time precisely without the need to accept longer production downtimes. Depending on the application, please select the edge protection from our product range that meets the desired requirement for heat resistance, abrasion resistance and flame retardancy.
Our Seal-Fast™ sealing solutions cover the full range of requirements in the food sector. From heat-resistant oven door gaskets to FDA-approved silicone gaskets for direct food contact areas, you can choose from a wide range of profiles and materials to find the right sealing. They all have in common a convenient and time-saving handling during installation, as a high clamping force is achieved without additional aids such as adhesives, screws or rivets due to the integrated stainless-steel substrate.
Digitalization – without cable tangle thanks to our Fast-Drop® series radius control modules.
To ensure international competitiveness and meet consumer demands for transparency and quality in food production, well-timed retrofits are essential.
Automotive
Rapid transformation in the automotive industry – new challenges for OEMs
The growth of the automotive industry concerning electric vehicles is impressive.
Both electric vehicles with battery and plug-in hybrid drive are being developed continuously – and this with very high safety standards.
Permanent improvements in range, power and most importantly safety and reliability are imperative.
The challenge is:
Reducing the higher costs compared to combustion engines and an enormous flexibility for permanent innovations and continuous development.
We offer developers and original equipment manufacturers, especially in the electromobility segment, a tested, highly developed cable protection portfolio to enable cost savings in process and assembly.
DTi device technologies GmbH works closely with OEMs in the EMEAI region to develop customized solutions that precisely meet their requirements and safety regulations.
As an example:
Krono Resist HT Series™
A thin, enamel-insulated, high-temperature magnet wire – Class 260 that can extend the life of electrical equipment in critical applications and increase power density to minimize equipment size and weight.
It can withstand temperatures of 260°C and is specifically designed to increase heat dissipation in vehicles, massively reducing the risks of cable damage from heat.
The rectangular/square shape allows for more conductive material in the same space, resulting in higher power density for longer use or a possible reduction in battery size.
Our Spring-Fast® edge protection portfolio can reduce installation costs by approximately 49% with significantly fewer steps due to the convincing clip-on installation. Any profiles can be installed with the touch of a finger.
The encapsulated spring steel substrate develops a high clamping force. This eliminates the need for adhesives and has already proven its worth in the aerospace industry.
Device Technologies' cable protection and sealing solutions help EV-OEM's reduce costs and improve performance with Spring-Fast® Grommet Edging, Seal-Fast™ Door Seals, Protect-Fast™ Sleeving and Class 260 Magnet Wire.
Gaming
The gaming industry must combine fast virtual impulses with durable hardware. This calls for materials that can withstand intensive use. For example, sensitive electronics are inserted into robust, sharp-edged metal cases. To prevent wire chafing, bending or even breakage, we offer our grommet edging with a low profile precision fit, which can be installed quickly without adhesives. This is already used in electronic slot machines in casinos and can thus prevent downtime or even cable fires.
Maritime
Protecting onboard electronics and reducing costs through effective, flexible installation.
In addition to the harsh conditions at sea, shipping also faces the challenges of increasingly compact electronics and new ship propulsion systems. High salt concentrations, humidity, high temperatures near machinery and extreme mechanical stresses caused by vibrations and displacement forces pose special challenges for the materials used. In the cable management, thermal management and edge protection sectors, we offer products that are ideally suited to maritime applications in terms of corrosion resistance, heat resistance and fire protection.
In order to meet these high standards of capacity and safety, we use our know-how, which we have accumulated through many years of cooperation with the aerospace industry.
For example, all products in our Spring-Fast® edge protection portfolio use a stainless steel substrate and are compliant with UL94 V-0 flammability regulations. The snap-on installation of the Spring Fast® series, which is easy to handle and requires no adhesives, can save approximately 49% of the common installation costs of glued nylon profiles.
The high clamping force is achieved by saltwater-resistant encapsulated spring stainless steel substrate, which is applied with simple finger pressure, grips the edge to be protected and holds fast even under high vibration environments.
It is important to mention that not only metal edges, but also sharp edges of glass fiber or carbon fiber composites can be precisely protected with our Spring-Fast®, Trim-Fast™ or Seal-Fast™ products in an instant. Without any harmful, time-consuming gluing procedures! 
Trim-Fast™ and  Seal-Fast™ offer stainless steel wire carrier on special order basis.
Defense & Space
Protecting Critical Equipment
Spring-Fast® Mil Spec grommet edging M22529/1 and M22529/2 were designed for the high performance needs of the defense industry. Used widely on airframes, tactical vehicles & ground based electronics.
Industrial
Our high-quality products for the protection of critical electronics can be used in a wide range of industrial applications due to their versatile and selectable material properties. Among our customers are manufacturers of elevators and lighting systems as well as producers of air conditioning systems.
We are constantly growing and expanding our Engineering Services for the aerospace & defense, transportation, medical and wind energy market. Our services include design,  production, quality control and worldwide delivery.
If you have any questions, please feel free to contact us. Phone: +49 40 350 85 128